THE EVOLUTION OF TOUGH™
Brutal Strength. Extreme Power. Massive fun!
X-Maxx is an all-new, clean-sheet design, engineered from the start to take Traxxas Tough™ to a whole new level. Unrelenting 4X4 power, mammoth size, and ferocious determination makes this mighty monster a truly worthy successor to the Maxx® legacy.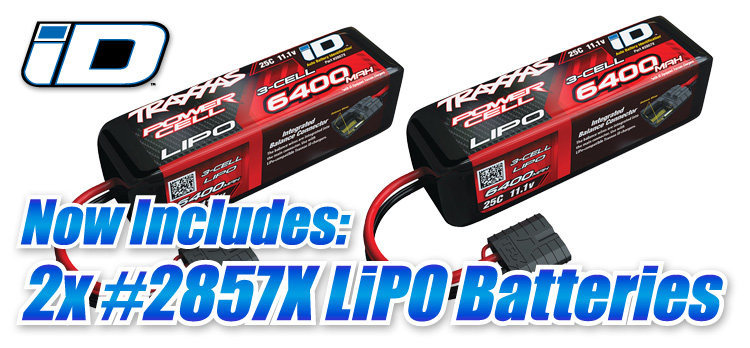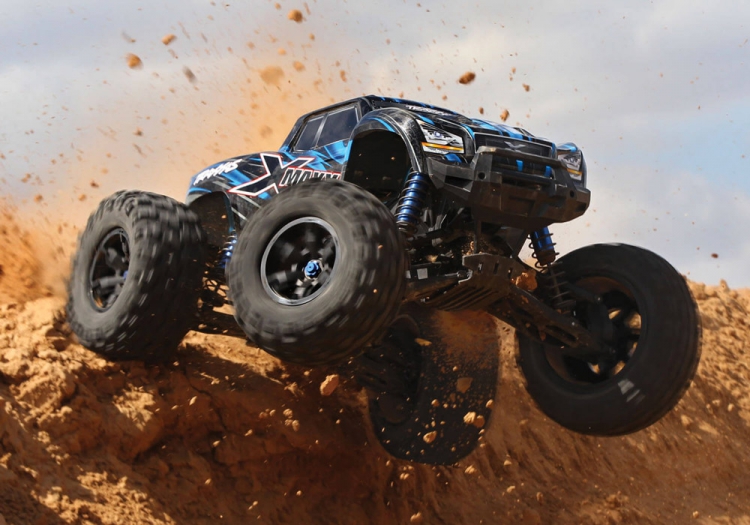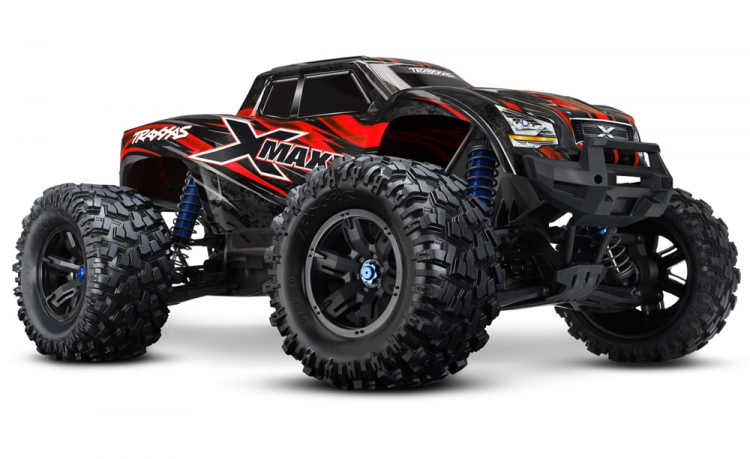 INNOVATION
Insightful engineering and precise integration of innovative solutions set X-Maxx in an all-new category of superior performance. It's as satisfying and rewarding to use as it is fun and exciting to drive. 
Size Wins
X-Maxx is enormous. Size wins by giving you the advantage to power over and through extreme landscapes. Mammoth 8-inch tall tires, long-arm suspension, and huge ground clearance dwarf the surroundings for virtually unstoppable Monster truck fun.


Extreme Power
Wildly over-powered, X-Maxx stays true to form with its Maxx® DNA. 6s 22-volt dual-LiPo muscle and a Velineon 1600XL Big Block™ motor propel X-Maxx with brutal authority and an exacting quickness that completely defies its enormous size.


Exclusive Self-Righting
Before X-Maxx, monster trucks would sometimes roll over upside down, bringing the action to a screeching halt. Now, press a button and in most cases this exclusive patent-pending Traxxas innovation flips X-Maxx back over onto its wheels so that you can quickly get back to having fun.
Features:
Velineon VXL-6s Brushless Power System
VXL-6s Waterproof Electronic Speed Control
6S LiPo compatible
Built-in cooling fan
Machined heat sinks
10-gauge silicone wire
Velineon 1600XL Brushless Motor
"Big Block" brushless motor
4-pole 1600 Kv
5 mm output shaft
Aluminum slip-on heat sink
Easy to use mounting method
56+ KMH with two 3s LiPo Batteries
Traxxas Stability Management
Helps prevents spinouts and loss of control
Adjusts from off to 100% assistance from the Transmitter
TQi 2.4GHz High Output radio system:
Traxxas Link enabled (Bluetooth Wirelsess Link Module sold separately #426511)
TQi 2.4GHz 5-channel micro receiver (#6533) with fail-safe security and integrated telemetry ports
Automatically stores and loads settings for up to 30 Traxxas Link-enabled models-just switch on and drive, "model selection" is not required
Multi-Function knob
Adjustable steering and throttle percentage (dual rates)
Adjustable steering and throttle sensitivity (exponential)
Adjustable steering and throttle end points
High 13ms frame rate and near-zero latency for responsive control
Telemetry-ready 5-channel micro receiver with dual channel-1 inputs
BEC Voltage and Motor Temperature Sensors Installed
New body mount system:
Quick one-hand installation and removal
Uses pivoting rear latch mechanism
Eliminates body posts and clips
Drivetrain:
Full-time shaft-driven 4-wheel drive
All-steel CVD's
24 mm splined wheel hexes
Wheel hexes retained with a clip
17 mm hex on outside of wheel
Sealed, silicone fluid-filled diffs
Splined outdrives attached with external thru-bolt method
Heavy-duty fan-cooled slipper clutch
Fully machined aluminum stub axles
Splined aluminum center driveshaft
New motor mounting system:
Precision, preset gear mesh adjustments
No manual gear mesh adjustments are required
Motor retention separate from gear mesh
New modular composite chassisRigid Chassis Structure:
Modular chassis design interlocks with front and rear bulkheads
Motor mounts to rear bulkhead to eliminate gear crunching flex
Easy to service and access components
Driveline is sealed in the chassis to keep out dirt and grit
New battery retention system:
No body clips or hook and loop straps
Battery hold-downs pivot for easy access
Adjustable for battery size
More secure than conventional retention systems
Integrated into chassis top brace for improved battery tray and chassis stiffness
New steering bell cranks and servo saver:
New high-output steering servo
Wired directly into the RX box, no external wires seen on chassis
New mounting system to fully support case
Double-shear, bearing supported servo horn
Suspension:
Engineered to optimize suspension travel and steering angles
All critical suspension points have double shear strength
High strength steel suspension pins used throughout
Suspension pins retainers won't come loose or "back-out"
4 mm machined pivot balls
C-hub and steering block geometry maximizes steering angle
Adjustable roll center
Fixed, high-strength camber and toe links
Steel upper and lower tie bars
Full contact sealed bearings used in exposed locations
New GTX Shocks:
Machined aluminum threaded body
Extra-large bore and capacity
5.2 mm damper shaft
Lower seal cartridge includes integrated wiper seal combination
Adjustable upper spring retainer
Plastic shock caps with pivot balls
Fixed shock locations
Lower spring perches bolted on
Bumpers:
Front and rear energy absorbing rubber impact bumper
Lower front and rear skids for impact and abrasion resistance
Integrated nerf bars for side impact resistance
Wheels/tires:
8 x 4 x 4 inch all-terrain tires
Large, dual diameter wheels
2-piece foam insert
High-strength glue
X-MAXX 4x4 DATA: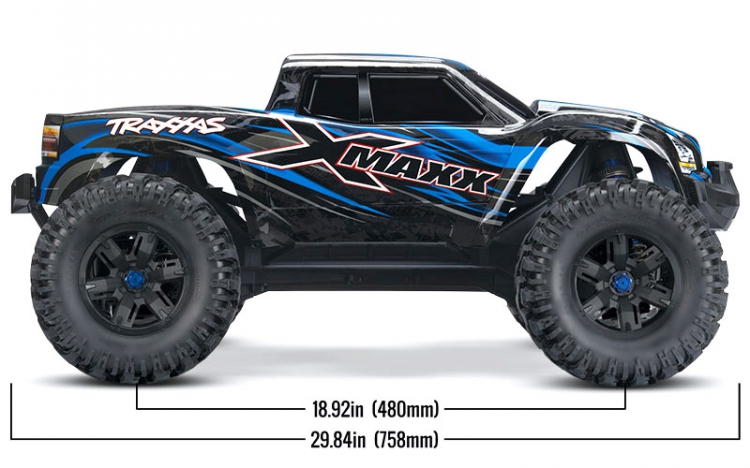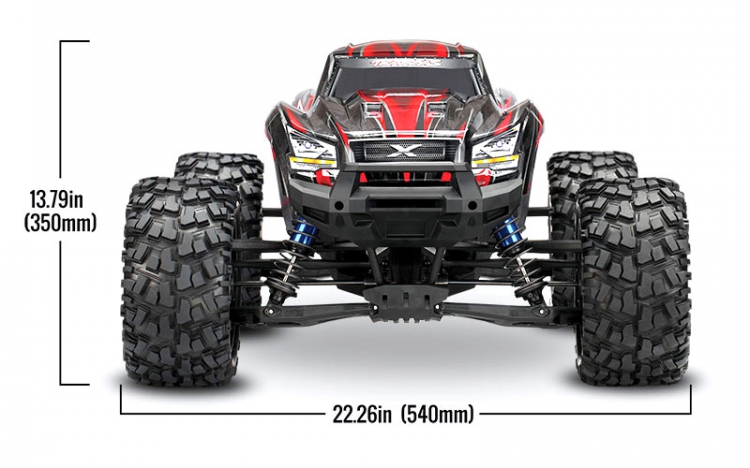 X-Maxx Truck Specs:
Length: 758 mm
Front Track: 540 mm
Rear Track: 540 mm
Ground Clearance: 102 mm
Weight: 8.66 kg
Height (ride): 350 mm
Wheelbase: 480 mm
Shock Length: 187 mm
Tires (pre-glued): 203 x 101.6 mm
Wheels: 110 x 145 mm
Speed Control: Velineon VXL-6s
Motor (electric): Velineon 1600
Transmission: Single-Speed
Overall Drive Ratio: 8.24 (stock, out-of-box)
Differential Type: Sealed, Hardened Steel Bevel, Limited Slip
Gear Pitch: 1.0-Pitch
Chassis Structure/Material: Composite Nylon Tub
Brake Type: Electronic
Drive System: Shaft-Driven 4WD
Steering: Bellcrank
Radio System: TQi™ 2.4GHz Transmitter with TSM receiver™
Servo Torque: 365 oz
Servo Speed: 0.17 s / 60° @ 6.0V
Top Speed: 56+ KMH with two 3s LiPo Batteries
Skill Level: 6
Battery Tray: 197 x 51.5 x 44 mm
Required Batteries: 4 "AA" (transmitter)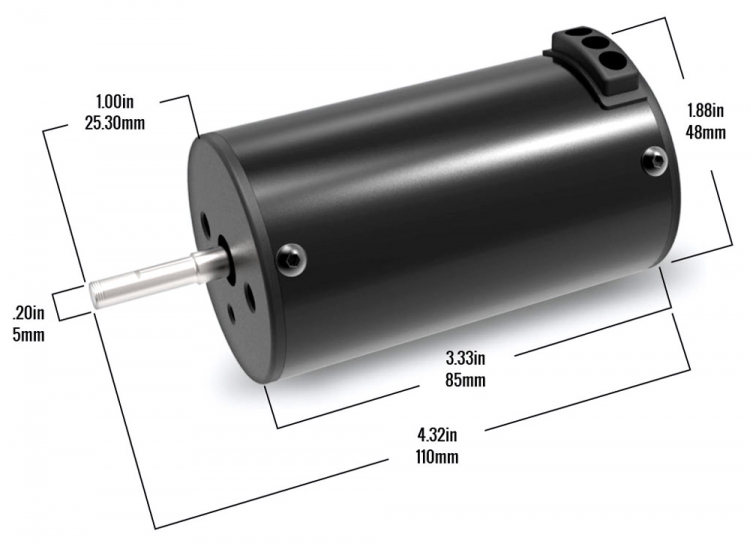 X-Maxx Motor Specs:
Type: 1600 kv Sensorless Brushless
Weight: 665 g
Length: 110 mm
Diameter: 48 mm
Connector Type: Traxxas 6.5mm Bullet Connectors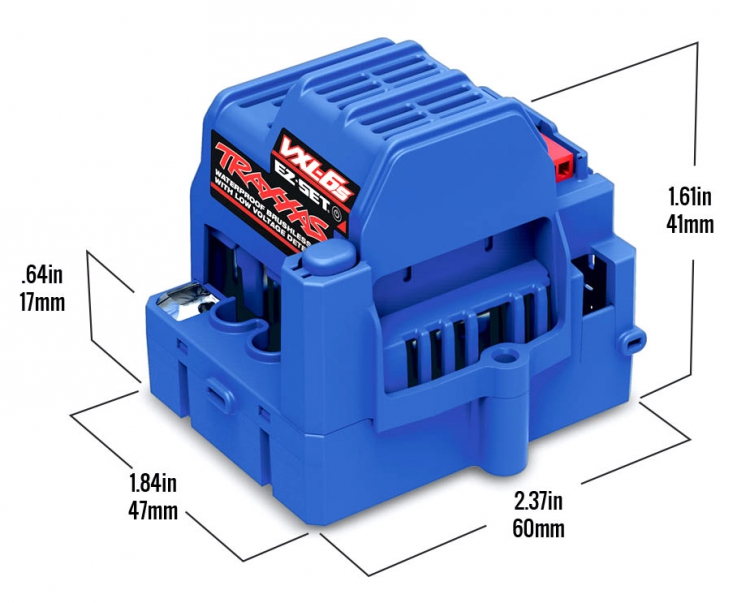 X-Maxx ESC Specs:
Input Voltage: 4s / 6s LiPo (Max 25.2 Volts)
Case Size: 47 x 60 x 41 mm
Weight: 140 g
Motor Connectors: Traxxas 6.5 mm Bullet Connectors
Battery Connectors: Traxxas High-Current Connectors
Power Wire: 10-gauge Maxx Cable
What's In The Box:
X-Maxx, Ready-To-Race® model with Traxxas Big Block™ brushless motor
VXL-6s Waterproof Electronic Speed Control
Quick Start Guide
TQi™ 2.4GHz radio system
High quality maintenance tools
What You'll Need:
AA Alkaline Batteries (Four AA Alkaline batteries for the Transmitter)